Adding an application to the Speakap Market:
Log in to the network or to login.speakap.com;
Click on your profile photo at the top right of the page;
Click on Network Settings and click on Speakap Market in the menu on the left;
Click on + Application at the top right of the page;
Click on + Add your own application...;

Paste the manifest file in the grey text area;
Click on Add application;


To install the app in the network click on Install in Entire network or select groups
It is important to note the ID-, and keep it in a safe way. This uniquely generated data is issued once and is needed if you want to make changes to the application. The data is not stored by Speakap.
Install an application for specific groups
Speakap offers the possibility to make the application visible to members of the entire network or to members of select Business Units, Departments, and/or Groups.
If you want the application to be only visible to certain members, Install Select groups. You will then see the screen below: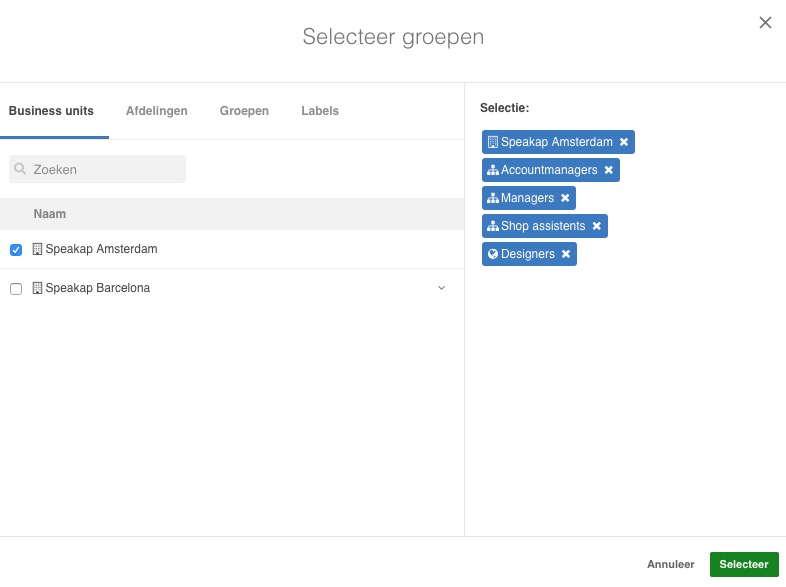 In the screen Select groups, you can fill in for which groups the application is visible. In the screenshot above you can see the application is visible for member of...:
Business Unit: Speakap Amsterdam
Departments: Accountmanagers, Managers, Shopassistents
Group: Designers
After setting the desired groups, click on Select to save your choice.
Finally, you publish the application by clicking Install on the Install Application screen.